July 19, 2011
NEW ALBUM - CHECK OUT THREE MORE SONGS...
The countdown has begun: On August 26th Edguy will release their brand new studio effort "AGE OF THE JOKER". The album will be released as a normal CD and as a limited edition double album featuring 6 additional songs. In addition, it will also be available as a double LP! Various journalists already consider the album the Heavy Metal highlight of the year and certainly one of the strongest Edguy albums of all time. In the Hellfire Club section here at edguy.net you can listen to the worldwide exclusive release of excerpts from seven new songs. All you have to do is
register
with a valid email address or simply
login
if you're already a member.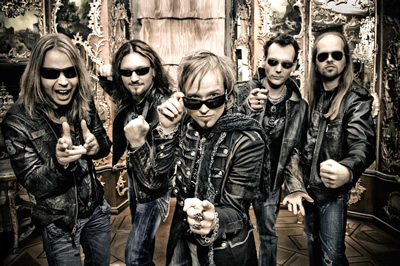 July 17, 2011
ANOTHER NIGHT WITH THE SCORPIONS...
Edguy have just returned from Schweinfurt where they have played as special guests to the Scorpions in front of more than 15,000 people at the stadium on Saturday, 16th. Edguy want to thank the Scorpions once again for their great support and friendly treatment, and of course they wanna thank all their fans at the Schweinfurt show who made the gig a big success. Now everybody is looking forward to setting off on the forthcoming European tour.
July 15, 2011
EUROPEAN TOUR - ANOTHER SPECIAL GUEST CONFIRMED
On August 26th Edguy's long anticipated ninth studio album "Age Of The Joker" will hit the stores. Having mainly focused on shows as special guests for the likes of Scorpions, Iron Maiden, Ozzy Osbourne and more in 2010, Edguy are looking forward to finally going out as headliners to bring the full big stage show to cities across Europe once again. Already having confirmed Kottak, featuring legendary Scorpions drummer James Kottak, on vocals and guitars, another support act has now been confirmed for some of the shows: Fullforce, the band around Hammerfall's drummer Anders Johansson and former Hammerfall lead guitarist Stefan Elmgren, who is finally back in the business for the first time after leaving Hammerfall years ago. Fullforce will open the shows in Malmö, Göteborg, Stockholm, Hamburg, Berlin and Essen. Kottak will join the whole tour. Edguy are more than happy to set out on the road again with members of the Scorpions- and Hammerfall-family, both bands with whom Edguy have always had a great relationship!
AGE OF THE JOKER TOUR 2011 - Part One
23.09.2011 - S - Malmö, KB
24.09.2011 - S - Göteborg, Trädgarn
25.09.2011 - S - Stockholm, Tyrol
27.09.2011 - D - Hamburg, Docks
28.09.2011 - D - Berlin, Columbia Club
30.09.2011 - D - Essen, Grugahalle
01.10.2011 - D - Fulda, Wartenberg Oval
02.10.2011 - D - Bamberg, Arena
04.10.2011 - D - Filderstadt, Filharmonie
06.10.2011 - CZ - Prag, KD Vitavska
07.10.2011 - D - Langen, Stadthalle
10.10.2011 - I - Mailand, Alcatraz
11.10.2011 - CH - Pratteln, Z7
12.10.2011 - F - Lyon, Transbordeur
14.10.2011 - ES - Madrid, Heineken
15.10.2011 - ES - Barcelona, Apollo
16.10.2011 - ES - Bilbao, Rock Star
18.10.2011 - D - Saarbrücken, Garage
19.10.2011 - F - Paris, Bataclan
21.10.2011 - D - Memmingen, Kaminwerk
22.10.2011 - D - Straubing, Messehalle
23.10.2011 - CZ - Zlin, Rock Cafe
Tickets for Germany:
metaltix.de
July 05, 2011
LISTEN TO THE NEW ALBUM NOW!
On August 26th Edguy will release their long awaited new album "Age Of The Joker". The journalists who have been given the chance to listen to the new songs have already gone crazy. Now the time has come for your exclusive chance to check out excerpts from the new album. All you have to do is register here at the official site with a valid email address and login to the Hellfire Club section to stream the first part of the listening session. If you're already registered, just login, choose "Hellfire Club" on the menu bar and then click on "Music". It's as simple as that!

The album will feature 11 songs with a total running time of over one hour. The limited edition Digipack will contain a bonus disc with 6 additional songs.

The album tracklist reads as follows:

1. Robin Hood
2. Nobody's Hero
3. Rock Of Cashel
4. Pandora's Box
5. Breathe
6. Two Out Of Seven
7. Faces In The Darkness
8. The Arcane Guild
9. Fire On The Downline
10. Behind The Gates To Midnight World
11. Every Night Without You

Tracklist for the limited edition bonus disc:

1. God Fallen Silent
2. Aleister Crowley Memorial Boogie
3. Cum On Feel The Noize (Slade-Cover)
4. Standing In The Rain
5. Robin Hood (single version)
6. Two Out Of Seven (single version)
June 25, 2011
THE NEW ALBUM: "MEMORABLE AND NOBLE"!
A few weeks ago a few journalists were given the chance to listen to a couple of songs from the forthcoming new Edguy masterpiece "Age Of The Joker" (in stores on August 26th). Below you can read what the journalists had to say right after the musical journey:

"Soft and heavy, memorable and noble. The "Age Of The Joker" is a really vivid age." Rock Hard (Ger) / Andreas Stappert

"Surprising and renowned moments follow one another. Edguy flip the bird at the Metalworld and record the album they want to. Cool!" - Metal Hammer (Ger) / Marc Halupczok

"Edguy step the Blues - variety is a top priority on "Age Of The Joker". Heavy (Ger) / Martin Römpp

"A supremely diversified album, top-notch in both fields: high musical aspirations and entertainment." Rock It (Ger) / Andreas Schöwe

"Edguy master the balancing act between aspirations and catchiness with honors. A grand display of fireworks with catchy chorusses, great melodies and exciting details galore. Heavy guitars, excellent vocals and exciting songs make "Age of The Joker" a hit." Legacy (Ger) / Andreas Schulz

"First impression? Amazing! You keep waiting for something that you have heard before, but I just couldn't find anything. Trademarks? Yes! Repetition or copy? No! To sum it up: Amazing album, but I didn't expect anything other than that!" Hardline (Ger) / Jenny Klünder

"It's time to rock the charts again!" Scream (Nor) / Anders Odsberg

"A suitable epic mix of Edguy's power metal roots, contemporary rock choruses and enough experimentation to keep things fresh." Powerplay (UK) / Sam Khaneka

"In between two massive epic length tracks, lies a paradise of catchiness. Their experimental parts are skinning, but they took care about proper needs of the fans in accessible songs as well." Rock Tribune (BE) / Vera Matthissens

"The "Age of the Joker" album is a really solid, well composed, filled with variations, work. It will most certainly be a highlight of the year for all Heavy Metal fans. Much better than "Tinnitus Sanctus" and with an interesting 80s rock touch. Edguy follows its own way, and this is good." Rock Hard (F) / Francois Blanc

"Very different, but very similar to anything they've done before. They will surprise you… again." Metal Hammer (ES) + The Metal Circus (ES) / Sergi Ramos

"Cool and funny record with Sascha on board. Everybody can expect smash songs from heavy Metal to Folk Medieval Music. This is Edguy that we love. Tobi is a unique metal person!" Spark (CZ) / David Havlena
June 17, 2011
NEW ALBUM TRACKLIST REVEALED
On August 26th Edguy's new studio album "Age Of The Joker" will hit the stores. The album was produced by Sascha Paeth and Edguy at Peppermint-Park Studios in Hannover and Gatestudio, Wolfsburg.
1. ROBIN HOOD
2. NOBODY'S HERO
3. ROCK OF CASHEL
4. PANDORA'S BOX
5. BREATHE
6. TWO OUT OF SEVEN
7. FACES IN THE DARKNESS
8. THE ARCANE GUILD
9. FIRE ON THE DOWNLINE
10. BEHIND THE GATES TO MIDNIGHT WORLD
11. EVERY NIGHT WITHOUT YOU
The album has a running time of well over one hour. To receive more information soon register at the
"Hellfire Club section".
"The "Age of the Joker" album is a really solid, well composed, filled with variations, work. It will most certainly be a highlight of the year for all Heavy Metal fans. Much better than "Tinnitus Sanctus" and with an interesting 80s rock touch. Edguy follows its own way, and this is good!" Rock Hard (F) / Francois Blanc
<< Previous 1 2 3 4 5 6 7 8 9 10 11 12 13 14 15 16 17 18 19 20 21 22 23 24 25 26 27 28 29 30 31 32 33 34 35 36 37 38 Next >>