March 28, 2014
TOBIAS SAMMET ABOUT NEW ALBUM - PART 2
On iTunes there is a podcast by Tobias in which he speaks about the new album "Space Police - Defenders Of The Crown" (out April 18th).
It is only available in German,
click here
to listen!
March 28, 2014
FIRST SINGLE "LOVE TYGER" AVAILABLE NOW!
Get the first track of the new album now! "LOVE TYGER" (taken from the forthcoming EDGUY album "SPACE POLICE - DEFENDERS OF THE CROWN", out on April 18th in Europe) is available as download single in all digital online music stores such as Amazon, iTunes etc NOW!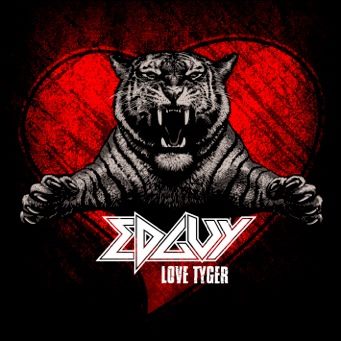 March 27, 2014
LISTEN TO EXCERPTS OF THE NEW EDGUY ALBUM NOW!
On April 18th the new EDGUY album SPACE POLICE - DEFENDERS OF THE CROWN will be released (UK April 21st, North America April 28th). Listen to excerpts from the new album below. To get more information about the new album and the limited edition click on the advertisement on the left.


March 26, 2014
EDGUY CONSIDERS APPROACHING NASA FOR STAGE SET
In September EDGUY will hit the road in support of their forthcoming album "SPACE POLICE - DEFENDERS OF THE CROWN" (out April 18th). The tour management has just revealed that they considered approaching NASA to help realize the stage for the show. A spokesman from All Access Entertainment says: "Working with EDGUY is a pleasure, but at the same time it's a major challenge. The best is not good enough for EDGUY because they love their fans like no other band in the world. They have always been the hardest working band on the planet to give their audience the biggest bang for the buck. It's an honor to work for them. The first time we considered approaching NASA was for a keyboard, due to frictional heat caused by Tobi's fast playing - the keys literally caught fire. We were in need of special material and gear used in the world of aerospace technology. That's when we got the idea of building a life-size model of Cape Canaveral to take out on the road with us. However, it was difficult to transform, we failed - but it was worth the try. Now, we see what we can come up with for the forthcoming tour, but we're optimistic that it will blow away everything known to humankind."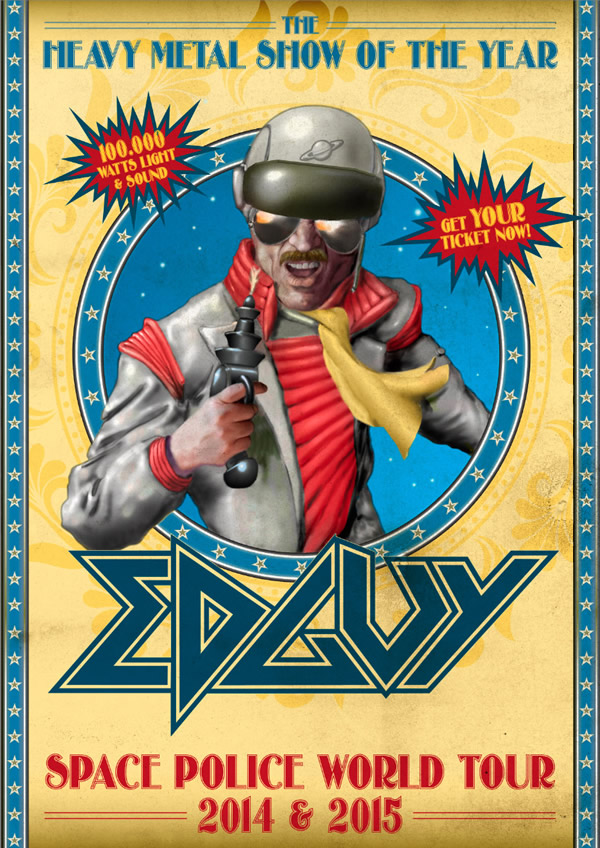 March 26, 2014
SPACE POLICE EUROPEAN TOUR ANNOUNCED
On April 18th EDGUY will release their new album "SPACE POLICE - DEFENDERS OF THE CROWN" (UK April 21st, US April 28th). In September the band will embark on the SPACE POLICE WORLD TOUR with a brandnew astonishing stage production. The first tourdates read as follows, more dates in other countries will be announced in the forthcoming days and weeks, so keep checking back or subscribe to the
official newsletter
to be informed as soon as new dates are added, so you can make sure you get your ticket before they sell out.
SPACE POLICE EUROPEAN TOUR
12.09.14 UK - Manchester, Sound Control
13.09.14 UK - Nuneaton, Queens Hall
14.09.14 UK - London, Islington Academy
19.09.14 GER - Hamburg, Markthalle (Metal Dayz)
20.09.14 SWE - Malmö, KB
21.09.14 SWE - Göteborg, Brewhouse
23.09.14 SWE - Lulea, Kulturens Hus
24.09.14 FIN - Jyväskylä, Lutakko
25.09.14 FIN - Helsinki, Tavastia
27.09.14 GER - Bremen, Aladin
28.09.14 GER - Oberhausen, Turbinenhalle
30.09.14 GER - München, Backstage
02.10.14 GER - Bamberg, Brose Arena
03.10.14 GER - Filderstadt, Filharmonie
04.10.14 GER - Kaufbeuren, All Kart Halle
06.10.14 ITA - Rome, Orion
07.10.14 ITA - Milan, Live Club
09.10.14 GER - Saarbrücken, Garage
10.10.14 GER - Fulda, Wartenbergoval
11.10.14 GER - Langen/Frankfurt, Stadthalle
13.10.14 SUI - Pratteln, Z7
14.10.14 FRA - Lyon, Le Transbordeur
15.10.14 FRA - Paris, Le Trabendo
17.10.14 ESP - Madrid, Penélope
18.10.14 ESP - Bilbao, Santana 27
19.10.14 ESP - Barcelona, Razzmatazz
21.10.14 GER - Köln, Live Music Hall
Tickets available at all known advance sale points. Tickets for Germany at
metaltix.com
. More dates to be announced!
Tobias Sammet says: "Finally, EDGUY are back! No Rock Opera, just going on stage and delivering the greatest high velocity entertainment show of the decade. King Of Fools, Lavatory Love Machine, Tears Of A Mandrake and a lot more old and new stuff. It feels great to go on stage with my childhood friends again, after the Deep Purple tour it's amazing to come with our own stage production again and turn every venue into an arena. It's all just a matter of attitude. Right now our agency is trying to get the NASA on board to come up with the stage decoration we have in mind. Quite simple and humble as always: We're all looking forward to bulldoze our way across the world, armed with sabre, torch, a bunch of guitars and a huge old school stage production. Don't be silly, be there!"
March 25, 2014
EUROPEAN TOUR TO BE ANNOUNCED MARCH 26TH, 16:00 CET
In September EDGUY will set off on the SPACE POLICE WORLD TOUR. The first leg of the tour will be announced tomorrow, March 26th at 4:00PM CET. Tickets for the first show will go on presale tomorrow. Check edguy.net for all information and to make sure you get your tickets!
<< Previous 1 2 3 4 5 6 7 8 9 10 11 12 13 14 15 16 17 18 19 20 21 22 23 24 25 26 27 28 29 30 31 32 33 34 35 36 37 38 Next >>