February 01, 2014
SPACE POLICE ALBUM ARTWORK REVEALED
On April 18th EDGUY's 10th studio album "SPACE POLICE - Defenders Of The Crown" will hit the stores worldwide, followed by a world tour starting in September. Last Saturday several journalists had the chance to listen to an unmastered version of the new album and the reaction was overwhelming (eg "Constistent and yet consistently different - Edguy defend the crown in German Metal with the greatest of ease… and as always: tongue in cheek" METAL HAMMER & "Amazing, heavy album. Reminds of the first albums with an advanced touch. Very good!" HARDLINE). Stay tuned for more information!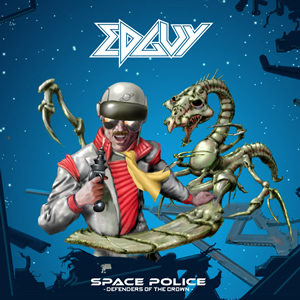 February 01, 2014
SPACE POLICE EUROPEAN TOUR - 1ST DATE CONFIRMED
The tour management has just confirmed the kick off date for the European "Space Police Tour" on September 19th. In Hamburg, Germany Edguy will headline the Hamburg Metal Dayz. As said the show will mark the kick off to the band's first full-fledged headlining European tour after the successful Age Of The Joker Tour 2011. The Metal Dayz will be the band's only festival show in Germany, further tour dates will be announced soon.
February 01, 2014
EDGUY CONFIRMED FOR GETAWAY ROCK IN SWEDEN
Edguy have just been confirmed to appear at this year's Getaway Rock Festival in Gävle, Sweden on the 7th of August. This will be one of the rare festival appearances this summer. A full European headlining tour will follow in September.
January 27, 2014
NEW EDGUY ALBUM "SPACE POLICE" OUT ON APRIL 18TH
On April 18th Edguy will release their tenth studio album "SPACE POLICE - Defenders Of The Crown". Last weekend some journalists had the chance to listen to the album for the first time and the press reaction was amazing. There are several good reasons to believe that this album is going to be one of the strongest and heaviest Edguy albums of all time. More details are going to be revealed soon.
January 12, 2014
NEW EDGUY ALBUM ALMOST COMPLETED
This news has been a long time coming. Secretly EDGUY have sneaked into the studio to record the follow up to their chartbreaking 2011 album "Age Of The Joker" (eg. no. 3 in the German album charts). The band has issued the following brief statement from the studio:

"We have focused on what makes this band unique and recorded what we believe is going to be the strongest & heaviest album this band has ever recorded. We didn't waste any time with updates or distractions. There is no doubt, that this album is going to be the album we'll be measured against in the future. And it makes us proud to say that as a band that has been existing for over 22 years now, fully aware that the best is yet to come."

The album is in the mixing process right now and will be out in April. Details will be revealed soon.
November 26, 2013
LIVE WORKSHOP WITH EDGUY AND AVANTASIA DRUMMER FELIX BOHNKE
He has played more than 600 shows in 30 countries all over the world. His most recent coup was delivering the backbeat of the Metal Opera Avantasia during their three-hours sets on the Mystery World Tour. Three hours of powerhouse drumming from Speed Metal to Mid tempo anthems and back. Not to forget that he has been kicking the double bass drums of Edguy for more than 15 years now. This is your chance to catch a close-up view and learn more about the technique of Avantasia and Edguy drummer Felix Bohnke, who will be giving a Masterclass and workshop at Maydrums in Schenga on December 8th, 2013. Felix will perform Edguy and Avantasia-Songs and chat with you about anything Metal drumming.

The masterclass will start at 14:30 (admission 25,- €), drummers are kindly requested to bring their own practise pads, a snare stand and pen & paper.

The workshop will start at 18:30 (admission 5,-€)

Please be advised you need to book your tickets for the event in advance:

Phone +49(0)5842 98166 martin@maydrums.de
http://maydrums.de/veranstaltungen/
<< Previous 1 2 3 4 5 6 7 8 9 10 11 12 13 14 15 16 17 18 19 20 21 22 23 24 25 26 27 28 29 30 31 32 33 34 35 36 37 38 Next >>