September 27, 2012
WE MOURN THE PASSING OF SIMON OBERENDER!
With deep sadness we mourn the passing of our dear friend and studio engineer Simon Oberender. Simon was one of the most talented sound engineers and musicians you could possibly meet. He was involved in the recording, mixing and mastering of all Edguy and Avantasia albums for the last ten years. Simon was always great to be around and a very lovely person. Simon, you will be sadly missed. We will never forget you! R.I.P.

Tobi, Jens, Dirk, Eggi & Felix
September 24, 2012
EDGUY GET READY FOR ENGLAND!
As previously announced Edguy are about set off to England to once again. After their appearance at the prestigious Download-Festival in Donington earlier this year, EDGUY will return to the UK to play a full fledged headline show at Rocktober-festival at the Colosseum in Watford, England on October 13th. There are still tickets available, make sure you get your tickets in time, it will be the last Edguy performance in England for a while!
September 24, 2012
SHOW IN SWITZERLAND CONFIRMED
Edguy have just been confirmed for another show with Motörhead on Dec 7th at the Bernexpo Halle 4 in Bern, Switzerland!

These forthcoming autumn dates are your last chance to catch Edguy live for an indefinite time. So make sure to check the tourdates section and get get your tickets!!!
September 04, 2012
EDGUY IN SOUTH AMERICA, UK AND WITH DEEP PURPLE IN GERMANY
As previously announced, in November Edguy will be heading to South America again. Besides the Brazilian dates as special guest of Guns'n Roses guitarist Slash, Edguy's tour management has also confirmed two headlining shows of Edguy in Mexico City on the 1st of November and Buenos Aires, Argentina on the 9th of November. Please note that Slash will not be on the bill at those shows!

Edguy's next show will be their headlining appearance at Rocktober Festival at Watford Colosseum, England on October 13th. After their return from South America in November, Edguy will hit the road with British legend Deep Purple for a full fledged arena tour in Germany before they will play their last show of 2012 as special guest to Motörhead in Bamberg, Germany in December. Check the tour section for details.
August 22, 2012
EGGI EXXEL PLAYS THE BASS ON PE SCHOROWSKY'S ALBUM
Eggi Exxel has joined with the former drummer of the "Böhsen Onkelz" Pe Schorowsky and plays the bass on his debut album "
Dreck und Seelenbrokat
", which is available all over starting the 31st of August. The Videoclip "Nur noch ´n Tag" is already online to see. Eggi explains: "'Tomorrow, everything will be better!' This spark of hope, this step will be scheduled for a further tomorrow. Will this day ever come? No, not just like that. You have to listen inside of you, you have to realize your own strengths and let out the animal in you! With its power and intelligent lyrics, this song definitely has the potential to raise a almost dead body back to its feet. And instead of sitting behind the drums, this time Pe stands all the way up front, first row, and sings. Guitar and drums are played by Chris Fuetarra and Peter Zettl. Manufactures suggestion: enjoy it loud."
Click
here
to view the new video of "
Nur noch'n Tag
".  Have fun!
August 06, 2012
THE END OF A HEAVY METAL SUMMER
This Heavy Metal summer is slowly but surely coming to an end.  The shows in Slovenia and Romania will be the last for this summer. Edguy wanna thank you all for your amazing support, especially the fans in Wacken, who defied the rain and the storm to support Edguy. Said Wacken show will be broadcast in its entirety on the German TV channel ZDF-Kultur. In October Edguy will headline one more show in England and head off to South America, before they finish the year with their arena tour as special guest of Deep Purple in Germany in November; and the Santa Claus party with Motörhead in Bamberg in December.
You'll find some interesting news at
tobiassammet.com
btw.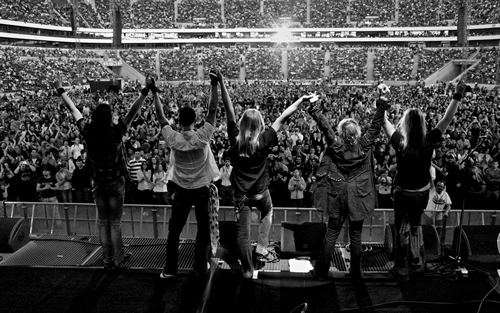 << Previous 1 2 3 4 5 6 7 8 9 10 11 12 13 14 15 16 17 18 19 20 21 22 23 24 25 26 27 28 29 30 31 32 33 34 35 36 37 38 Next >>