January 12, 2014
NEW EDGUY ALBUM ALMOST COMPLETED
This news has been a long time coming. Secretly EDGUY have sneaked into the studio to record the follow up to their chartbreaking 2011 album "Age Of The Joker" (eg. no. 3 in the German album charts). The band has issued the following brief statement from the studio:

"We have focused on what makes this band unique and recorded what we believe is going to be the strongest & heaviest album this band has ever recorded. We didn't waste any time with updates or distractions. There is no doubt, that this album is going to be the album we'll be measured against in the future. And it makes us proud to say that as a band that has been existing for over 22 years now, fully aware that the best is yet to come."

The album is in the mixing process right now and will be out in April. Details will be revealed soon.
November 27, 2013
LIVE WORKSHOP WITH EDGUY AND AVANTASIA DRUMMER FELIX BOHNKE
He has played more than 600 shows in 30 countries all over the world. His most recent coup was delivering the backbeat of the Metal Opera Avantasia during their three-hours sets on the Mystery World Tour. Three hours of powerhouse drumming from Speed Metal to Mid tempo anthems and back. Not to forget that he has been kicking the double bass drums of Edguy for more than 15 years now. This is your chance to catch a close-up view and learn more about the technique of Avantasia and Edguy drummer Felix Bohnke, who will be giving a Masterclass and workshop at Maydrums in Schenga on December 8th, 2013. Felix will perform Edguy and Avantasia-Songs and chat with you about anything Metal drumming.

The masterclass will start at 14:30 (admission 25,- €), drummers are kindly requested to bring their own practise pads, a snare stand and pen & paper.

The workshop will start at 18:30 (admission 5,-€)

Please be advised you need to book your tickets for the event in advance:

Phone +49(0)5842 98166 martin@maydrums.de
http://maydrums.de/veranstaltungen/
September 10, 2013
TOBIAS SAMMET TO ATTEND METAL HAMMER AWARDS 2013
On September 13th vocalist Tobias will make an appearance at the "Metal Hammer Awards" 2013 at the Kesselhaus in Berlin. Other guests who will attend the award show are Metallica, Nightwish, Motörhead, Doro, Kreator and more.
September 01, 2013
NEW EDGUY ALBUM IN 2014
After having completed the Avantasia world tour Tobias and Felix are about to get back to the rehearsal studio with Edguy to work on the band's 10th studio album. Asked about a possible release date Tobias says on behalf of the band: "We're done whenever we're done, but realistially we hope to release it in April or May. We'll see what material we have and then we'll go from there and take our time to come up with what's hopefully gonna be the greatest Heavy Metal record in the history of mankind."

The band's previous album Age Of The Joker was released in August 2011 and reached the following chart positions:

Germany #3
Czech Republic #10
Sweden #10
Switzerland #13
UK (Rock-Charts) #14
Finland #15
Norway #26Austria #30
Spain #44
France #63
Japan #74
Italy #79
January 22, 2013
NEW VIDEO "NACHSCHLAG" FROM EGGI EXXEL AND PE SCHOROWSKY
Edguy bassist Eggi Exxel has once again been very busy and has filmed a new video together with Peter "PE" Schorowsky named
"Nachschlag"
(Second Serving). The joint album "Dreck und Seelenbrokat" and the first video "Nur Noch 'n Tag" (Just One More Day) have been out since August and were accepted very positive by fans. The demand for a second video was so big that they were not shy the cost or effort to grant your wishes.
If you want to know if Pe would be a good chef then click
HERE
to go back for seconds!
December 08, 2012
THE END OF THIS YEARS' TOUR
Edguy's eventful touring year is finally coming to an end. Having played several stadium shows and festivals and after recent ventures such as the South American dates with former Guns'n Roses guitarist Slash, the arena tour with Deep Purple, and the two Christmas festivals with Motörhead, the touring year is now over. Edguy wanna thank all their fans for the great support and wish you a calm and relaxing Christmas time.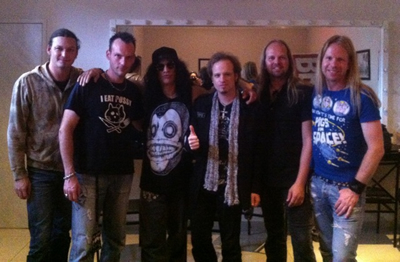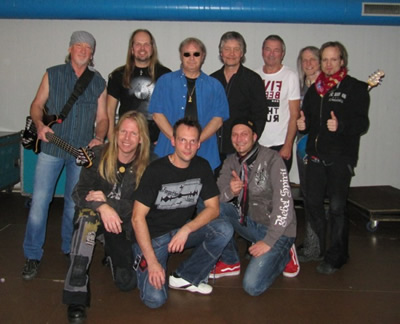 << Previous 1 2 3 4 5 6 7 8 9 10 11 12 13 14 15 16 17 18 19 20 21 22 23 24 25 26 27 28 29 30 31 32 33 34 35 36 37 38 39 Next >>