August 22, 2012
EGGI EXXEL PLAYS THE BASS ON PE SCHOROWSKY'S ALBUM
Eggi Exxel has joined with the former drummer of the "Böhsen Onkelz" Pe Schorowsky and plays the bass on his debut album "
Dreck und Seelenbrokat
", which is available all over starting the 31st of August. The Videoclip "Nur noch ´n Tag" is already online to see. Eggi explains: "'Tomorrow, everything will be better!' This spark of hope, this step will be scheduled for a further tomorrow. Will this day ever come? No, not just like that. You have to listen inside of you, you have to realize your own strengths and let out the animal in you! With its power and intelligent lyrics, this song definitely has the potential to raise a almost dead body back to its feet. And instead of sitting behind the drums, this time Pe stands all the way up front, first row, and sings. Guitar and drums are played by Chris Fuetarra and Peter Zettl. Manufactures suggestion: enjoy it loud."
Click
here
to view the new video of "
Nur noch'n Tag
".  Have fun!
August 07, 2012
THE END OF A HEAVY METAL SUMMER
This Heavy Metal summer is slowly but surely coming to an end.  The shows in Slovenia and Romania will be the last for this summer. Edguy wanna thank you all for your amazing support, especially the fans in Wacken, who defied the rain and the storm to support Edguy. Said Wacken show will be broadcast in its entirety on the German TV channel ZDF-Kultur. In October Edguy will headline one more show in England and head off to South America, before they finish the year with their arena tour as special guest of Deep Purple in Germany in November; and the Santa Claus party with Motörhead in Bamberg in December.
You'll find some interesting news at
tobiassammet.com
btw.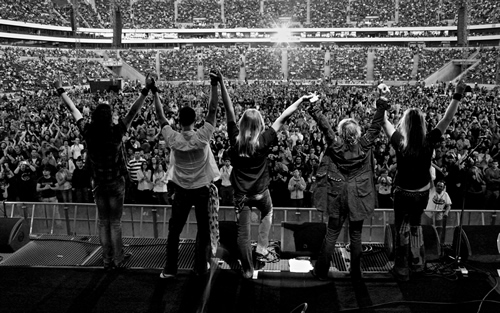 August 04, 2012
EDGUY SURPRISE ACT AT WACKEN OPEN AIR
We can proudly announce that this year's Wacken Open Air surprise act will be no other than Edguy. At 2:00 AM, sunday morning, Edguy will close this year's issue of the world's biggest Heavy Metal festival as a very special surprise act on the main stage. Despite Tobias' injuries sustained from his accident the show will take place as planned. The full show will be shot by the German TV channel ZDF and broadcast in the near future!
July 18, 2012
EDGUY RETURN TO THE UK
Having been the only German band on the bill of this year's Download-Festival at Donington, EDGUY will return to the UK once more this year. On October 13th Edguy will headline Rocktober-festival taking place at the Colosseum in Watford, England!
July 15, 2012
TOBIAS' ACCIDENT AT BYH FESTIVAL
Yesterday at the Bang Your Head festival in Germany, Tobias slipped and fell off the stage during the 5th song of Edguy's set. While the band continued to play, Tobias fell into the photographer's pit, hit the concrete ground and received several injuries which turned out to be a fracture of his nose, a severe hip contusion, a severe rib contusion and several abrasions and cuts. Nevertheless the band played their full set and went on for another hour, while it was obvious to fans that Tobias was in severe pain. Luckily he is okay and sent us the following message:

"Thanx for your kind wishes, I am alright. I do not have a clue how it happened, the stage wasn't damp, my shoes were alright, I do not have to mention that I was completely sober as this must have been obvious to everyone. I have no clue how it happened. I just fell and suddenly there was blood and a little pain, which got worse song by song. I didn't know you can squeeze so much blood out of such a little nose (well, it's not exactly little at this point...). The doctor just said the nose will be fine in a few weeks. Anyway, there was too much adrenaline to stop the show. The fans were so great, it just felt wrong to stop the show, so we decided to just go on and have the doctors repair me afterwards. I am okay now, looking terrible and hurting, but who cares... I'll be fine. Thank you for your wishes and for making the show a great show, despite the little incident... Cheerzz, T"
July 04, 2012
EDGUY TO TOUR WITH SLASH IN BRAZIL
South America has always meant something special to Edguy and their crew. For more than ten years Edguy have toured the continent in support of each album and even though some fans were afraid it wouldn't happen this time, Edguy's booking agency finally announces a short tour of Brazil. Some more dates may follow depending on the schedule. Confirmed shows are:

4.11. Brasilia - Opera Hall
6.11. Sao Paulo - Espaco das Americas
7.11. Curitiba - Master Hall

Edguy will be heading out as special guest of ex-Guns'n Roses guitarist Slash and his band!
<< Previous 1 2 3 4 5 6 7 8 9 10 11 12 13 14 15 16 17 18 19 20 21 22 23 24 25 26 27 28 29 30 31 32 33 34 35 36 37 38 39 Next >>