July 30, 2011
COUNTDOWN TO THE NEW ALBUM
On August 26th Edguy's long awaited new album "AGE OF THE JOKER" will hit the stores. The press has already praised the album for being one of the best, perhaps THE best Heavy Metal album of the year. Certainly it is one of the strongest masterpieces Edguy have ever recorded. The first single "Robin Hood" will be available for download on iTunes on August 5th. The video will premiere on the screens at Wacken festival prior to Tobi's headlining show with Avantasia on the mainstage, next Saturday, 8:00 pm.
Click
here
to check or pre-order the new album.
July 22, 2011
EDGUY'S ROBIN HOOD - THE MOVIE...
Edguy have just returned from the video shoot for "ROBIN HOOD", the opening track from Edguy's forthcoming Album "AGE OF THE JOKER" (release August 26th). Video director Oliver Sommer (Avantasia, Nena, Helloween...) and the band decided to satirize the Errol Flynn version "The Adventures Of Robin Hood". The miniature epic was shot in the forest with a large number of additional actors, starring German TV-comedian Bernhard Hoecker in two different leading roles a.o..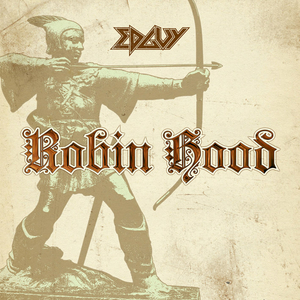 Tobias says: "When you decide to do things like that of course you have to be aware that you will most likely make a fool out of yourself. We had to wear tights and looked a bit like four idiots and one transvestite. But we have come to a point we don't care so much anymore. We feel like being in a luxury position where the record label gives us a lot of money to waste for really silly things like sneaking through the forest and looking like idiots. The shooting was one of the funniest days in our career, and that means something. Although It was hard work - the rain, the mud, soaking wet tights, angry horses, carriage, a lot of travesty, sword fighting and hurting smile muscles. You gotta check it out!"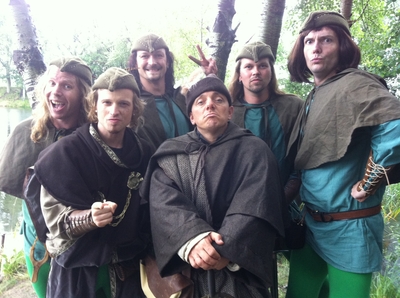 The single "Robin Hood" will be out on the August 5th and will be available as download and on green vinyl. The video version of the song was cut down to 5 minutes, but the album version has a running time of more than 8 minutes.
July 19, 2011
NEW ALBUM - CHECK OUT THREE MORE SONGS...
The countdown has begun: On August 26th Edguy will release their brand new studio effort "AGE OF THE JOKER". The album will be released as a normal CD and as a limited edition double album featuring 6 additional songs. In addition, it will also be available as a double LP! Various journalists already consider the album the Heavy Metal highlight of the year and certainly one of the strongest Edguy albums of all time. In the Hellfire Club section here at edguy.net you can listen to the worldwide exclusive release of excerpts from seven new songs. All you have to do is
register
with a valid email address or simply
login
if you're already a member.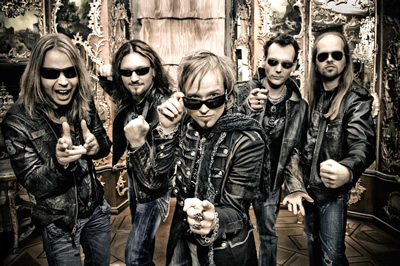 July 17, 2011
ANOTHER NIGHT WITH THE SCORPIONS...
Edguy have just returned from Schweinfurt where they have played as special guests to the Scorpions in front of more than 15,000 people at the stadium on Saturday, 16th. Edguy want to thank the Scorpions once again for their great support and friendly treatment, and of course they wanna thank all their fans at the Schweinfurt show who made the gig a big success. Now everybody is looking forward to setting off on the forthcoming European tour.
July 15, 2011
EUROPEAN TOUR - ANOTHER SPECIAL GUEST CONFIRMED
On August 26th Edguy's long anticipated ninth studio album "Age Of The Joker" will hit the stores. Having mainly focused on shows as special guests for the likes of Scorpions, Iron Maiden, Ozzy Osbourne and more in 2010, Edguy are looking forward to finally going out as headliners to bring the full big stage show to cities across Europe once again. Already having confirmed Kottak, featuring legendary Scorpions drummer James Kottak, on vocals and guitars, another support act has now been confirmed for some of the shows: Fullforce, the band around Hammerfall's drummer Anders Johansson and former Hammerfall lead guitarist Stefan Elmgren, who is finally back in the business for the first time after leaving Hammerfall years ago. Fullforce will open the shows in Malmö, Göteborg, Stockholm, Hamburg, Berlin and Essen. Kottak will join the whole tour. Edguy are more than happy to set out on the road again with members of the Scorpions- and Hammerfall-family, both bands with whom Edguy have always had a great relationship!
AGE OF THE JOKER TOUR 2011 - Part One
23.09.2011 - S - Malmö, KB
24.09.2011 - S - Göteborg, Trädgarn
25.09.2011 - S - Stockholm, Tyrol
27.09.2011 - D - Hamburg, Docks
28.09.2011 - D - Berlin, Columbia Club
30.09.2011 - D - Essen, Grugahalle
01.10.2011 - D - Fulda, Wartenberg Oval
02.10.2011 - D - Bamberg, Arena
04.10.2011 - D - Filderstadt, Filharmonie
06.10.2011 - CZ - Prag, KD Vitavska
07.10.2011 - D - Langen, Stadthalle
10.10.2011 - I - Mailand, Alcatraz
11.10.2011 - CH - Pratteln, Z7
12.10.2011 - F - Lyon, Transbordeur
14.10.2011 - ES - Madrid, Heineken
15.10.2011 - ES - Barcelona, Apollo
16.10.2011 - ES - Bilbao, Rock Star
18.10.2011 - D - Saarbrücken, Garage
19.10.2011 - F - Paris, Bataclan
21.10.2011 - D - Memmingen, Kaminwerk
22.10.2011 - D - Straubing, Messehalle
23.10.2011 - CZ - Zlin, Rock Cafe
Tickets for Germany:
metaltix.de
July 05, 2011
LISTEN TO THE NEW ALBUM NOW!
On August 26th Edguy will release their long awaited new album "Age Of The Joker". The journalists who have been given the chance to listen to the new songs have already gone crazy. Now the time has come for your exclusive chance to check out excerpts from the new album. All you have to do is register here at the official site with a valid email address and login to the Hellfire Club section to stream the first part of the listening session. If you're already registered, just login, choose "Hellfire Club" on the menu bar and then click on "Music". It's as simple as that!

The album will feature 11 songs with a total running time of over one hour. The limited edition Digipack will contain a bonus disc with 6 additional songs.

The album tracklist reads as follows:

1. Robin Hood
2. Nobody's Hero
3. Rock Of Cashel
4. Pandora's Box
5. Breathe
6. Two Out Of Seven
7. Faces In The Darkness
8. The Arcane Guild
9. Fire On The Downline
10. Behind The Gates To Midnight World
11. Every Night Without You

Tracklist for the limited edition bonus disc:

1. God Fallen Silent
2. Aleister Crowley Memorial Boogie
3. Cum On Feel The Noize (Slade-Cover)
4. Standing In The Rain
5. Robin Hood (single version)
6. Two Out Of Seven (single version)
<< Previous 1 2 3 4 5 6 7 8 9 10 11 12 13 14 15 16 17 18 19 20 21 22 23 24 25 26 27 28 29 30 31 32 33 34 35 36 37 38 39 Next >>