September 01, 2013
NEW EDGUY ALBUM IN 2014
After having completed the Avantasia world tour Tobias and Felix are about to get back to the rehearsal studio with Edguy to work on the band's 10th studio album. Asked about a possible release date Tobias says on behalf of the band: "We're done whenever we're done, but realistially we hope to release it in April or May. We'll see what material we have and then we'll go from there and take our time to come up with what's hopefully gonna be the greatest Heavy Metal record in the history of mankind."

The band's previous album Age Of The Joker was released in August 2011 and reached the following chart positions:

Germany #3
Czech Republic #10
Sweden #10
Switzerland #13
UK (Rock-Charts) #14
Finland #15
Norway #26Austria #30
Spain #44
France #63
Japan #74
Italy #79
January 22, 2013
NEW VIDEO "NACHSCHLAG" FROM EGGI EXXEL AND PE SCHOROWSKY
Edguy bassist Eggi Exxel has once again been very busy and has filmed a new video together with Peter "PE" Schorowsky named
"Nachschlag"
(Second Serving). The joint album "Dreck und Seelenbrokat" and the first video "Nur Noch 'n Tag" (Just One More Day) have been out since August and were accepted very positive by fans. The demand for a second video was so big that they were not shy the cost or effort to grant your wishes.
If you want to know if Pe would be a good chef then click
HERE
to go back for seconds!
December 08, 2012
THE END OF THIS YEARS' TOUR
Edguy's eventful touring year is finally coming to an end. Having played several stadium shows and festivals and after recent ventures such as the South American dates with former Guns'n Roses guitarist Slash, the arena tour with Deep Purple, and the two Christmas festivals with Motörhead, the touring year is now over. Edguy wanna thank all their fans for the great support and wish you a calm and relaxing Christmas time.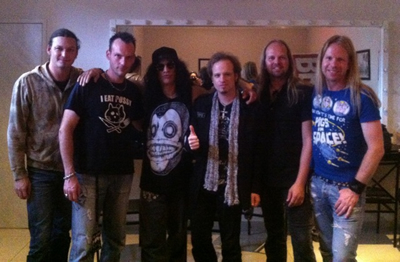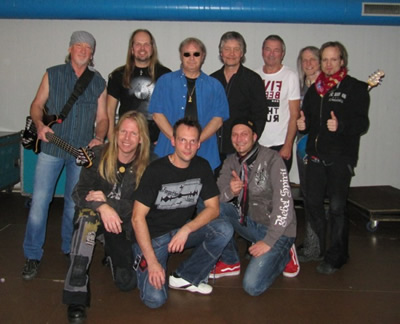 November 01, 2012
TOUR-SHIRTS AVAILABLE NOW
Good news for all fans, who didn't get the chance to get their Edguy tour shirt 2012. At some places certain sizes were sold out, so now you got the chance to get your tour shirt at
www.edguy-shop.de.
Shirts only available while supplies last!
October 06, 2012
GETTING READY FOR AMERICA!
Edguy have just finished rehearsals for the forthcoming tour dates in Central- and South America and the subsequent European dates with Deep Purple and the two festivals with Motörhead. While the Brazilian shows will be special guest shows to former Guns'n Roses guitarist Slash and his solo band, in Mexico and Argentina Edguy will play full fledged headlining shows on their own! As some of you may have heard, Rocktober Festival in England unfortunately has been canceled due to organizational problems, the band is really sorry about that and promises to come back to the UK as soon as possible on their own again. Nevertheless Edguy are looking forward to heading to Mexico, Brazil and Argentina now!
September 27, 2012
WE MOURN THE PASSING OF SIMON OBERENDER!
With deep sadness we mourn the passing of our dear friend and studio engineer Simon Oberender. Simon was one of the most talented sound engineers and musicians you could possibly meet. He was involved in the recording, mixing and mastering of all Edguy and Avantasia albums for the last ten years. Simon was always great to be around and a very lovely person. Simon, you will be sadly missed. We will never forget you! R.I.P.

Tobi, Jens, Dirk, Eggi & Felix
<< Previous 1 2 3 4 5 6 7 8 9 10 11 12 13 14 15 16 17 18 19 20 21 22 23 24 25 26 27 28 29 30 31 32 33 34 35 36 37 38 Next >>